Autochartist is a sophisticated technical analysis tool designed to assist traders in identifying potential trading opportunities in the financial markets.It utilizes advanced algorithms and pattern recognition technology to scan and analyze price charts, pinpointing various chart patterns, key support and resistance levels, and Fibonacci patterns.Autochartist aims to provide traders with actionable insights, helping them make more informed decisions when entering or exiting trades.
Autochartist is available to all registered clients for XGLOBAL. Sign-up now to get access.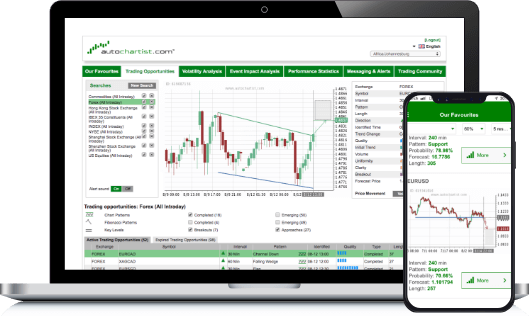 Supercharge your trading experience with Autochartist – Your key to real-time market insights and profitable opportunities
Autochartist Analysis types
Autochartist provides technical and statistical analysis and immediately recognises emerging and completed trade setups. Analysis types vary to cater for all types of traders, technical analysis types include Horizontal key levels and Statistical patterns such as Big movements and Consecutive candles.
Email Subscription Options
We offer a variety of Autochartist email reports allowing you to have a faster, clearer and smarter way to trade. Seize your opportunities with this email report subscription.
This email contains a market snapshot that provides a 24-to-48 hour view on the market. This report is generated once per day in English at the opening of the European session and the instrument class of your choice.